Local. Trusted. Family Owned.
Soft Washing Algonquin, IL
Top-Rated
Soft Washing in Algonquin
Cleaning your home is one reliable way of taking care of it, ensuring you can rely on it for years to come. Proper cleaning will clear all dirt, grime, algae, moss, and insects that can cause severe damage to your structure. One reliable way to ensure you benefit from the cleaning is through soft washing. For quality soft washing in Algonquin, IL, and the surrounding areas, call Natures Elements. We are a local company that has been cleaning properties for years, and you can trust we will be ready with the equipment and personnel to clean your property. Call and schedule our services today.
What is soft washing? Our soft washing services in Algonquin, IL, and the surrounding areas involve using non-toxic cleaning solutions and low-pressure water jets to rid your property of dirt and grime. The cleaning solution kills off microorganisms that could cause health problems.
Searching for Algonquin
Soft Washing Near Me?
Why are we the best contractor to call for soft wash services? For one, we have all the necessary soft-wash equipment. This way, we can clean your property as first as possible. Secondly, we will send you technicians with years of experience dealing with soft wash systems. They have the training and skills to clean every inch of your exteriors. We also use our previous projects as evidence of our superiority. We will provide you with before and after photos of our other projects. Fourth, our services are affordable and will give you an estimate before getting to work. Finally, we only use environmentally friendly cleaning solutions hence no negative impact on your surrounding plantations.
What makes soft washing stand out above pressure washing? While pressure washing will efficiently clean your property, it is only best for durable surfaces such as stone, metal, and brick. On the other hand, most exterior surfaces are of less rigid materials, such as wood and glass. This way, it is essential to use a soft washing system when cleaning such areas. Using pressure washing on such surfaces can cause damage to your exteriors. We also employ a soft-wash system when cleaning gutters, siding, and windows.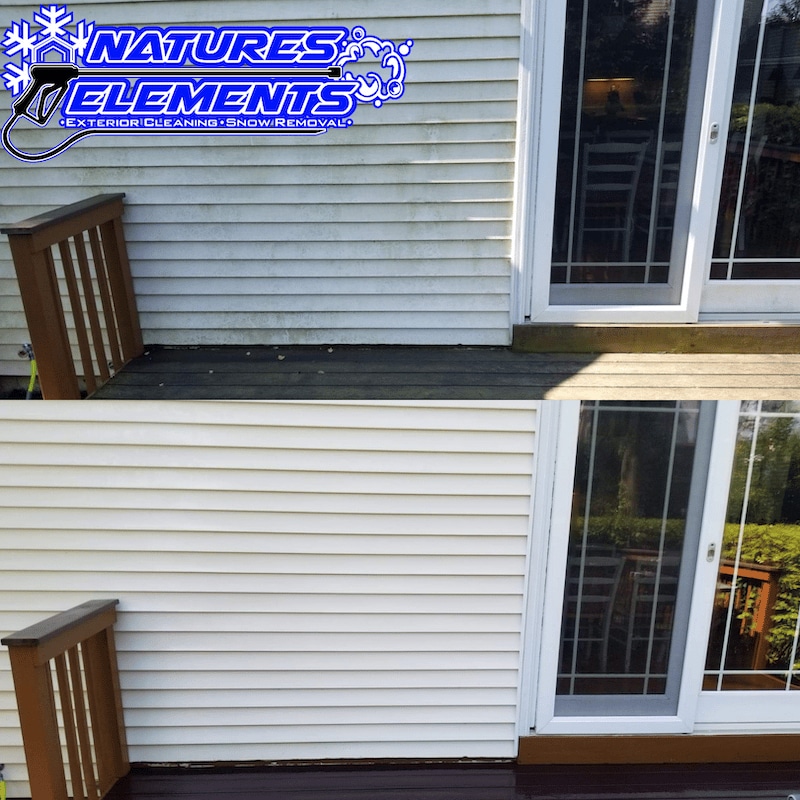 We hired *COMPANY NAME* for *SERVICE* and couldn't be happier with their service! From start to completion they were professional, on time, friendly, and were a pleasure to work with.
We couldn't be happier after the *SERVICE* service from *COMPANY NAME*. We will definitely be hiring them again in the future.
*COMPANY NAME* did an amazing job on our home. We would definitely recommend this company to anyone looking for professional *SERVICE*!
I highly recommend *COMPANY* to anyone who's looking for *SERVICE*. They were very thorough and reasonably priced as well!
Local. Trusted. Family Owned.
Expert Soft Washing Services Algonquin, IL Residents Trust
Call Today for Soft Washing
in Algonquin, IL!
Adopting soft washing when cleaning your exteriors has many benefits for your property. For one, it ensures lasting solutions to your dirt problems. Since soft washing kills bacteria, mold, algae, fungi, lichen, and mildew, the results will keep your exteriors clean for a long. It is also effective but gentle on your surfaces. Unlike pressure washing, soft washing will clean your surfaces; while ensuring they are safe. Third, the cleaning process is safer; there are minimal possibilities of harm to cleaners and anything around the cleaning area. Finally, the cleaning solutions are not toxic and will not harm you or the surrounding plantations.
Located 40 miles northwest of the loop, Algonquin, IL, is a town that has many places to amaze visitors and residents alike. Visit the following sites Old Town District, Riverfront Park, Cornish Park, Randall Oaks Zoo, Scorched Earth Brewing Company, Fox River Trail, Towne Park, Fox Valley Pottery, Brunner Family Forest Preserve, Randall Road, Exner Marsh Nature Preserve, Bowlero, and Fox River Shores Preserve.
When looking for soft washing near me, call Natures Elements. We have years of experience offering soft washing services, and you can expect nothing but quality and lasting solutions. We value our customers and aim to surpass their targets with every project. Our services are also affordable and will provide you with an estimation of the job before we begin the cleaning. Call us today for quality soft washing services in Algonquin, IL, and the surrounding areas.