Local. Trusted. Family Owned.
Pressure Washing Mundelein, IL
Top-Rated
Pressure Washing in Mundelein
If you have been looking for a power washing or a pressure washing Mundelein IL company, then your best bet is our vastly experienced and capable pressure washing services, in Mundelein IL. Our team of highly trained technicians will give your home or commercial space a deep clean without the damage that comes with engaging in traditional power washing.
Whenever you need a Mundelein pressure washing near me, our company should be at the top of your list because we are committed to providing our customers with the highest quality pressure washing services in Mundelein IL. Our technicians undergo rigorous training and provide the best results available, ensuring that your exteriors have bright and shining looks at all times.
Our services transcend providing power washing services. We are seasoned professionals who provide different types of pressure cleaning services such as concrete cleaning, driveway cleaning, patio washing, gutter cleaning, soft house washing, roof cleaning, rust removal, sanitizing services, or be it snow removal due to heavy snow storms. We are thoroughly equipped to carry out the tasks with the best modern tools to give your environment and surroundings a transformed look. With our specialized pressure cleaning methods, get rid of mildew, dirt, tree sap, algae on walls, and more. We'll pressure wash your home, deck, and sidewalks with different options depending on the specific need of the surface.
Searching for Mundelein
Pressure Washing Near Me?
Natures Elements Exteriors is a fully licensed and insured company that provides you with efficient exterior washing and cleaning. We provide the highest quality pressure washing services in Mundelein, IL. Our goal is to help you gain more value from your landscaping property by being 100% satisfied with our work. We can guarantee you 100% customer satisfaction as our advanced machine cleaning system operated by our skilled technicians will leave you with sparkling surroundings. Our high-performance equipment leaves behind organic waste that helps control weeds, control soil erosion, improve air quality, and reduce potential flooding in your environment.
Located in Lake County, Illinois, a northern suburb of Chicago, Mundelein offers remarkable educational opportunities, a strong industrial base, and significant housing values for your family. With its excellent location and easy accessibility to residents, this has significantly boomed property investments and added a flair to this vibrant and flourishing village. Mundelein, IL has all the attributes that make it an ideal place for redevelopment and family growth.
One thing you should never do is risk the safety of your house and commercial properties because only an experienced pressure washing contractor should handle the cleaning projects. As the saying goes, "A clean home is a happy home." So, don't leave your surroundings dirty and unsightly. We will get your exteriors cleaned in no time, so you can relax knowing that the job has been done right by professionals like us. Natures Elements Exteriors provides you with top-notch pressure washing services and we can't wait to hear from you. We'd be happy to give you a free estimate and have you be another one of our happy clients.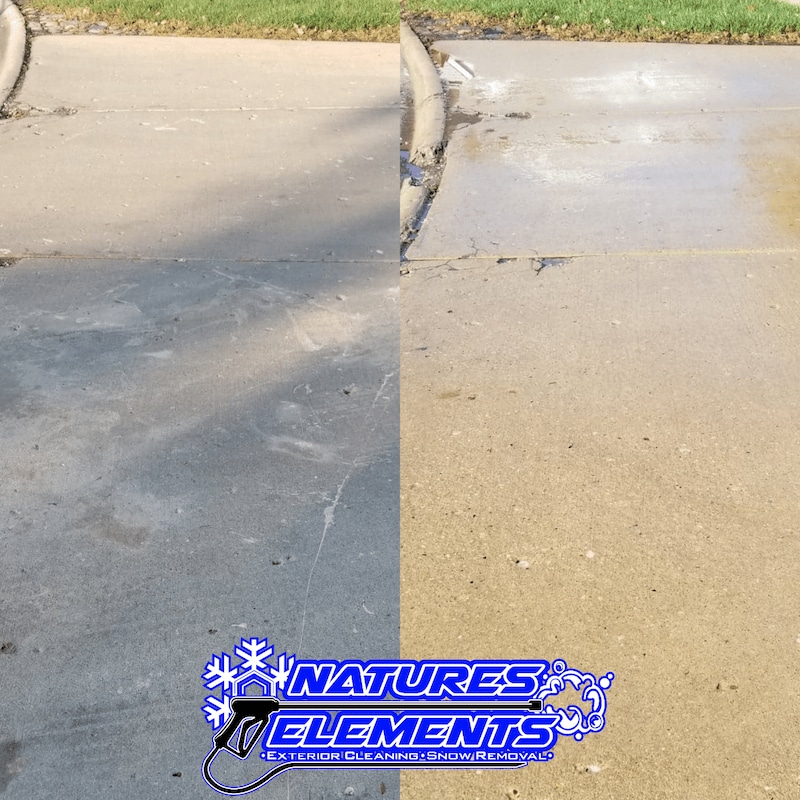 We hired *COMPANY NAME* for *SERVICE* and couldn't be happier with their service! From start to completion they were professional, on time, friendly, and were a pleasure to work with.
We couldn't be happier after the *SERVICE* service from *COMPANY NAME*. We will definitely be hiring them again in the future.
*COMPANY NAME* did an amazing job on our home. We would definitely recommend this company to anyone looking for professional *SERVICE*!
I highly recommend *COMPANY* to anyone who's looking for *SERVICE*. They were very thorough and reasonably priced as well!
Local. Trusted. Family Owned.
Expert Pressure Washing Services Mundelein, IL Residents Trust
Call Today for Pressure Washing
in Mundelein, IL!
Power washing your driveway may sound like a luxury only for homeowners who have the time and money for extra home maintenance. But power washing your driveway is one of the easiest ways to keep your garage or driveway looking new. With power washing, a power washer uses high-pressure water to break down dirt, oil, and grease that have built up over time—no need to scrub or rinse, just powerwash and get rid of dirt buildup fast.
Natures Elements provides professional driveway cleaning services in Mundelein, IL. Our courteous staff members are trained to clean your driveway to industry standards. We also offer cost-effective driveway sealing and paint Touch Up services. Our staff is knowledgeable about local laws and regulations, so you can rest assured that your property will be treated with the care it deserves.
Call Natures Elements today for a free estimate on driveway cleaning in Mundelein, IL. Visit our website to learn more about our services and view our Before and After photos. We offer same-day service, and we also provide emergency service. We take care of your pressure cleaning needs as if it was our own so that you can get back to your routine as soon as possible.