Local. Trusted. Family Owned.
Roof Cleaning Algonquin, IL
Top-Rated
Roof Cleaning in Algonquin
It is easy to forget the importance of your roof until you eventually face a problem. Roof damage can be costly to repair, and it will take longer before you have it functioning again. Your roof is there for protection against weather elements and is an essential part of your home. One of the best ways to look after your roof is through roof cleaning. For reliable roof cleaning in Algonquin, IL, and the surrounding areas, contact Natures Elements. We are a local contractor with years of experience providing roof cleaning services. Being a family-run company, we understand the importance of your roof and will ensure it is clean and ready. Contact us today for an estimation or to book us to clean your roof.
Why are we the best contractor offering roof washing in Algonquin, IL, and the surrounding areas? For one, we offer you flexible working hours. We understand that roof cleaning is an involving process that would need ample time. This way, we schedule our roof washing near-me services when you are available. We also send you the best roof cleaners in the industry, ready with equipment cleaning solutions. Third, our roof cleaning services come with a warranty; in case the cleaning is not up to our high standards, we will be ready to re-do the work. Fourth, we use environmentally friendly cleaning solutions hence no damage to the surrounding plantations. Finally, we use the necessary cleaning methods to protect your roofing materials. That is why we adopt soft washing on some roofing materials.
Searching for Algonquin
Roof Cleaning Near Me?
Our roof cleaning services involve using low-pressure water to rid your roof of dirt, moss, algae, and other unwanted substances. We use low-pressure water to ensure no damage to your roofing materials during the cleaning process. We offer roof moss removal services no matter the roofing materials. We also provide shingle washing and metal roof cleaning, among many other roofing materials.
Many benefits come with our roof maintenance services. For one, it prevents your roof from damage. Saving you loads of money you would have spent on repairs. It also enhances the curb appeal of your property, making it stand out. Third, roof cleaning increases the value of your property. A clean and good-looking roof will attract more potential buyers. Fourth, it prolongs the lifespan of your roof. Cleaning away the dirt and grime will prevent them from damaging your roof. Finally, it ensures your roof remains functional and energy efficient.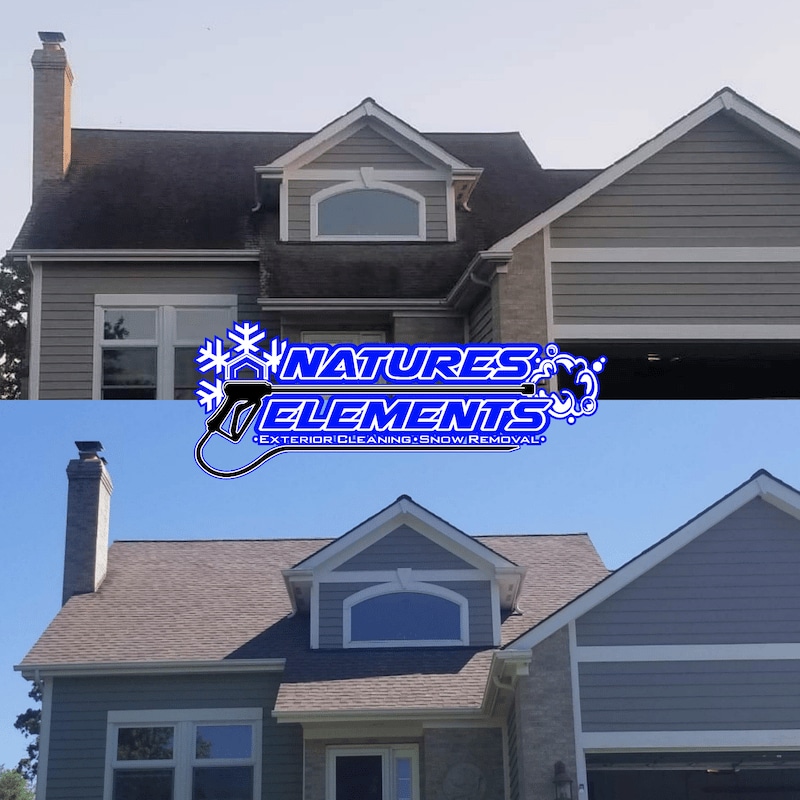 We hired *COMPANY NAME* for *SERVICE* and couldn't be happier with their service! From start to completion they were professional, on time, friendly, and were a pleasure to work with.
We couldn't be happier after the *SERVICE* service from *COMPANY NAME*. We will definitely be hiring them again in the future.
*COMPANY NAME* did an amazing job on our home. We would definitely recommend this company to anyone looking for professional *SERVICE*!
I highly recommend *COMPANY* to anyone who's looking for *SERVICE*. They were very thorough and reasonably priced as well!
Local. Trusted. Family Owned.
Expert Roof Washing Algonquin, IL Residents Trust
Call Today for Roof Cleaning & Roof Washing
in Algonquin, IL!
A suburb of Chicago, Algonquin, IL, is an impressive town with a welcoming community. Visit the following sites the next time you are in town. They include Cornish Park, Randall Oaks Zoo, Scorched Earth Brewing Company, Fox River Trail, Towne Park, Fox Valley Pottery, Brunner Family Forest Preserve, Randall Road, Exner Marsh Nature Preserve, Bowlero, Fox River Shores Preserve, Santas Village Azoosment/Water Park, and Underground Retrocade.
When looking for Algonquin roof cleaning near me, call Natures Elements. We have been offering roof cleaning services for years and have had nothing but success. We have many before and after photos to show our years of success. We take every project seriously and will ensure to surpass the targets of all our clients. Call and schedule the services of the best roof cleaning contractor in Algonquin, IL, and the surrounding areas.