Local. Trusted. Family Owned.
Roof Cleaning Barrington, IL
Top-Rated
Roof Cleaning in Barrington
Natures Elements provides professional, high-quality roof cleaning in Barrington, Illinois. A lifetime warranty backs our roof cleaning services, so you can rest assured that your roof will look new again and remain free of bacteria and mold. Our fully trained, experienced professional roof cleaners have the tools and expertise to clean your roof the right way, which means your roof will last longer and stay healthy longer. If your home or business has a roof that needs cleaning, contact Natures Elements today!
Have you noticed your roof starting to look a bit dirty? If so, don't worry—it's entirely normal for roofs to accumulate dirt and grime over time. Roof cleaning is an integral part of roof care, and it can be a great way to increase the lifespan and efficiency of your roof. Natures Elements offers affordable roof cleaning in Barrington, IL.
Searching for Barrington
Roof Cleaning Near Me?
The roof is the most crucial part of any building – it protects the interior from the elements, provides an aesthetic appearance, and prevents water damage. But even the best roof isn't going to last forever – after decades of exposure to the weather, it will eventually require maintenance to keep it in good condition. One way to extend the life of a roof is through roof cleaning, which is a method of removing debris and various types of contaminants built upon the surface. Most homeowners can perform this relatively straightforward process, but it's often best left to the professionals, as it involves heights, which can be dangerous.
One of the most common roof cleaning methods is shingle washing, which involves using specialized chemicals and equipment to clean the surface of the shingles. This is often the best option for homeowners who want to clean their roofs but don't have the time or expertise to do it themselves. Roof shingle washing can be performed on almost any type of roof, regardless of material or age, and is a great way to improve the aesthetics of a building without a lot of hassle or expense. Natures Elements offers professional Barrington roof cleaning near me, so if your roof could use a little TLC, don't hesitate to contact us!
Natures Elements also performs roof moss removal, which is another excellent way to clean your roof and improve its appearance while also ensuring that it remains healthy and free of bacteria and mold. Moss is an opportunistic organism that can thrive on just about any surface and is particularly fond of the moist environment found on a roof. As a result, moss tends to appear on roofs in damp climates, and it's common for moss to grow on a roof even if no water leaks are present. Roof moss removal works best when carried out in conjunction with roof cleaning, which will ensure that all of the debris and moss is removed from the roof so that it doesn't come back after the cleaning is complete.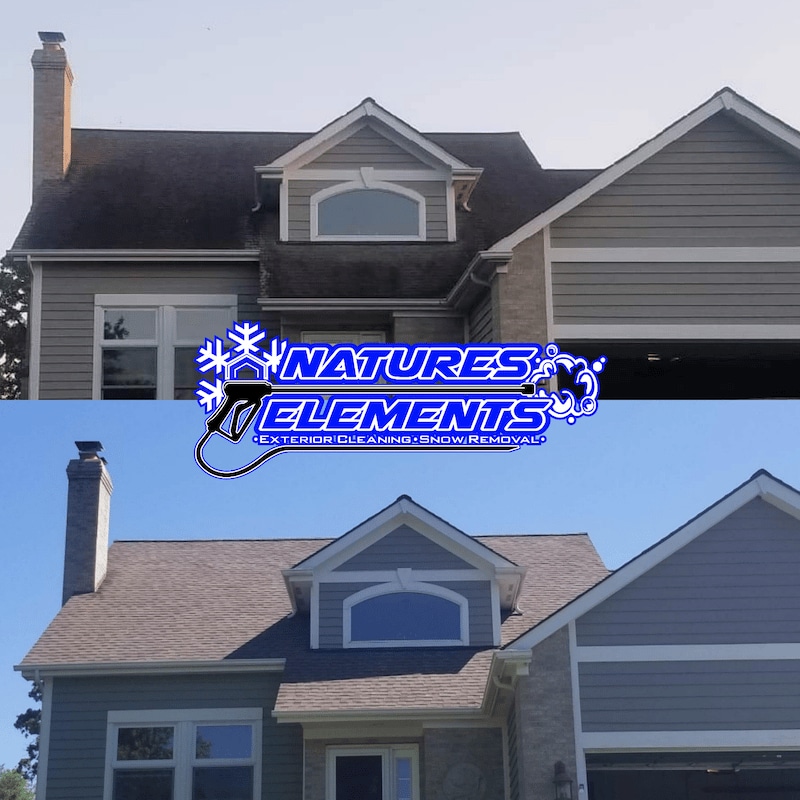 We hired *COMPANY NAME* for *SERVICE* and couldn't be happier with their service! From start to completion they were professional, on time, friendly, and were a pleasure to work with.
We couldn't be happier after the *SERVICE* service from *COMPANY NAME*. We will definitely be hiring them again in the future.
*COMPANY NAME* did an amazing job on our home. We would definitely recommend this company to anyone looking for professional *SERVICE*!
I highly recommend *COMPANY* to anyone who's looking for *SERVICE*. They were very thorough and reasonably priced as well!
Local. Trusted. Family Owned.
Expert Roof Washing Barrington, IL Residents Trust
Call Today for Roof Cleaning & Roof Washing
in Barrington, IL!
Preventive roof maintenance is the best way to keep your roof looking and performing its best. Natures Elements offers expert roof maintenance services that can help extend the life of your roof. Our expert roof maintenance services include things like moss removal, which can help reduce the amount of water trapped underneath your shingles which can help reduce the chances of a leak. We also offer roof washing in Barrington, IL, which can help improve the overall appearance of your home.
If you're interested in learning more about our roof washing near me, roof moss removal, or roof maintenance services in Barrington, IL, don't hesitate to contact Natures Elements today! We offer free estimates, so you can find out exactly how much it will cost without any hassle. Our staff is professional and friendly, and we're committed to providing our clients with the best possible service at a fair price. We invite you to visit our website or give us a call to learn more about our services.