Local. Trusted. Family Owned.
Pressure Washing Grayslake, IL
Top-Rated
Pressure Washing in Grayslake
If you're a homeowner living in beautiful Grayslake, IL, you have to invest in professional pressure washing services to keep your home nice and clean.
Pressure cleaning is a popular type of cleaning method that's used on the exterior of a building. Over time, the building surfaces get dirty. Whether due to animals, graffiti, mold/mildew, or storm damage, the exterior of your home takes a beating all through the year. Power washing, which uses a very hot stream of water, can easily blast away dirt, chipped paint, and other types of debris/bacterial buildup quickly and efficiently. If you're looking for pressure washing services Grayslake, IL, look no further than the team at Natures Elements. 
Why Natures Elements? Aside from having years of experience under our belt, we pride ourselves on providing the highest quality of service to the residents of Grayslake, IL, and throughout Lake County. Call us today at (815) 347-3193 to receive your free power washing quote. 
Searching for Grayslake
Pressure Washing Near Me?
As briefly mentioned above, there are many benefits to power washing your home, mainly keeping the exterior nice and clean 365 days a year. However, it also has structural benefits. When dirt, mold, and other types of bacteria continue to sit for a prolonged time, it puts your roofing tiles, and other structures at risk of ruin. This means more money out of your pocket – and who wants that? Generally speaking, professional Grayslake pressure washing near me saves you both time from having to try and tackle the behemoth job yourself and money that comes with serious structural, unexpected and expensive damage and repair.
It's not just the exterior of your home that benefits from a professional power washing near me. Other outdoor parts of your house, including your driveway, patio, and even sidewalk can benefit from a good scrub now and then. 
Like your house, your driveway and patio are constantly exposed to harsh sunlight, rain, snow, and heavy winds. Furthermore, they can routinely be exposed to heavy foot traffic and for your driveway specifically, a couple of thousand-pound vehicles. Without proper care and maintenance, these areas can fall victim to cracks, mold, weed growth, and discoloration. At Natures Elements, we proudly offer top-rated patio washing and driveway cleaning.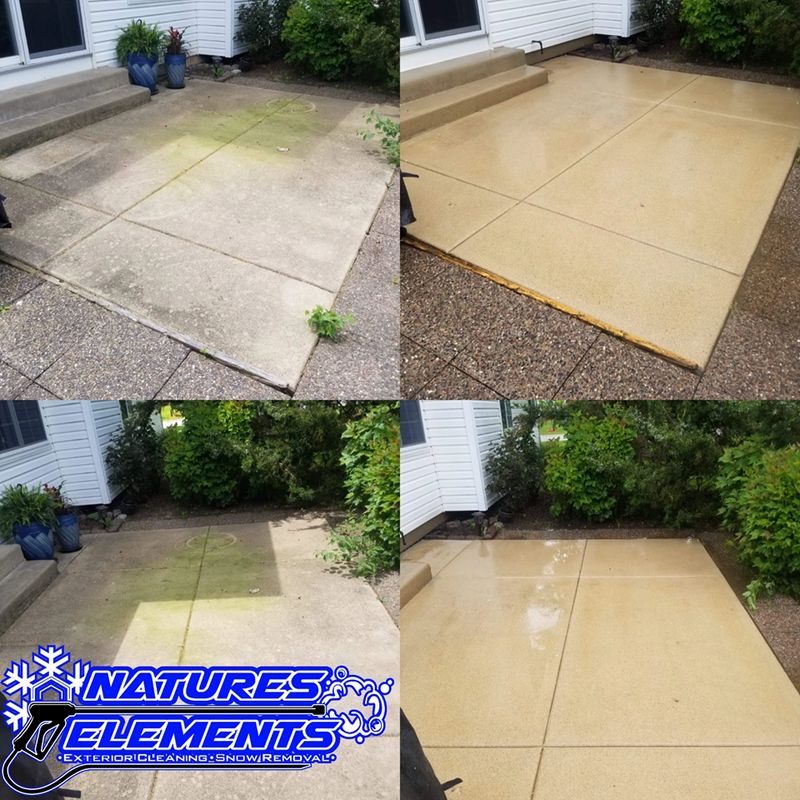 We hired *COMPANY NAME* for *SERVICE* and couldn't be happier with their service! From start to completion they were professional, on time, friendly, and were a pleasure to work with.
We couldn't be happier after the *SERVICE* service from *COMPANY NAME*. We will definitely be hiring them again in the future.
*COMPANY NAME* did an amazing job on our home. We would definitely recommend this company to anyone looking for professional *SERVICE*!
I highly recommend *COMPANY* to anyone who's looking for *SERVICE*. They were very thorough and reasonably priced as well!
Local. Trusted. Family Owned.
Expert Pressure Washing Services Grayslake, IL Residents Trust
Call Today for Pressure Washing
in Grayslake, IL!
All of our pressure washing services are safe to use on a variety of services, including paint, vinyl, brick, and concrete. Call Natures Elements at (815) 347-3193 to schedule a concrete cleaning appointment today. 
Whether you want to give your driveway, patio, or exterior of your house a new facelift, pressure washing is the easy way to do it. Remember, your house is an investment and so taking care of it can help you keep it in good shape for the long haul. 
Call Natures Elements to schedule an appointment or to get a free quote. There's been no better way to protect your home from the elements than by calling the pros at Grayslake's Natures Elements. We can be reached at (815) 347-3193.