Local. Trusted. Family Owned.
Roof Cleaning Grayslake, IL
Top-Rated
Roof Cleaning in Grayslake
Out of all the cleaning services you can invest in, professional roof cleaning should be at the top of your list. If it isn't, you may eventually find yourself with a hefty roof repair bill. If you're looking for professional Grayslake roof cleaning near me, don't hesitate to call the pros at Natures Element for help. Not only do we have years of experience providing safe and effective roof maintenance, but we will provide you with a top-rated level of customer service each and every time. Contact us today at (815) 347-3193 to get a free quote or to book your appointment. 
Now, back to what we mentioned earlier. Without proper roof care, you could eventually be faced with expensive roof repairs. But how? All of it comes down to the positioning of your roof and its location. Anything that is constantly exposed to the harsh natural elements can fall victim to discoloration, mold, and breakage. Unfortunately, your roof is no different. 
Searching for Grayslake
Roof Cleaning Near Me?
Because it's constantly exposed to strong UV rays, heavy wind and rain, and even snow, it can naturally wear down over time, especially if these elements lead to mold. Mold is one of those pesky things that grow after water exposure. In fact, it can start to grow and spread in as little as 24-48 hours. While your home's gutters are designed to move away the flow of rainwater, the same doesn't always happen for your roofing tiles. Instead, they may continually be exposed to mold growth that isn't easily seen by the naked eye until it's already rotted through. If left untreated for years, this could lead to a roof collapse – and yes, a lot of money!
Another hazard that many homeowners don't think about until it's already too late is moss. While moss may look pretty as you pass by on the side of the road, it is one of the biggest catalysts of roof damage and subsequent repair. Moss feeds on the water trapped inside rain-soaked leaves. So, the longer that wet leaves lay on your roof, the greater likelihood there will be mold growth. Thankfully, you don't have to live under the threat of mold, as the team at Natures Elements offers top-rated roof moss removal services. Even as part of our routine shingle washing services, we'll get rid of soggy leaves so moss can't grow and damage your roof.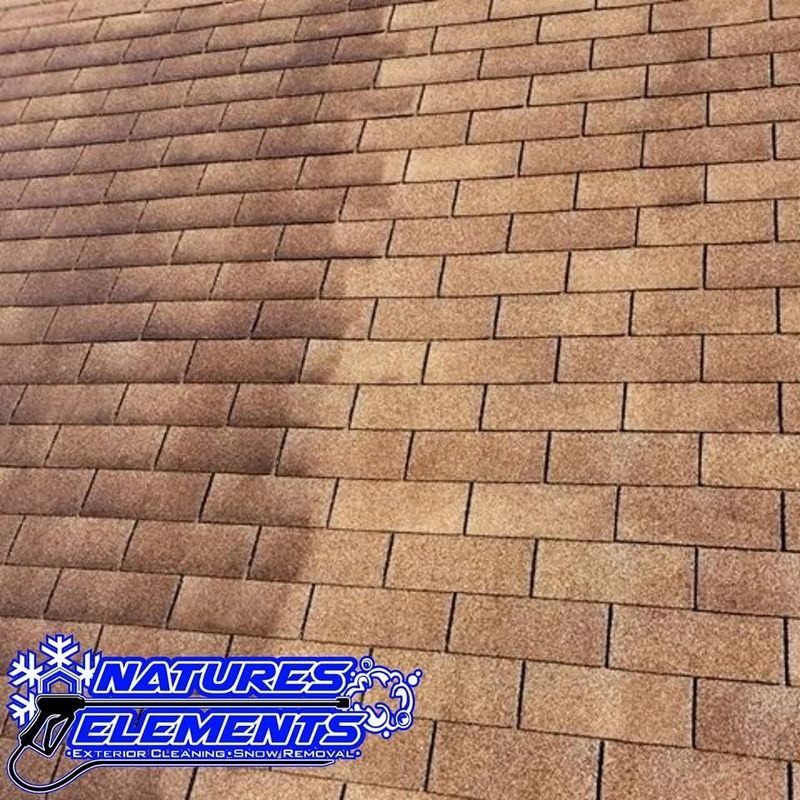 We hired *COMPANY NAME* for *SERVICE* and couldn't be happier with their service! From start to completion they were professional, on time, friendly, and were a pleasure to work with.
We couldn't be happier after the *SERVICE* service from *COMPANY NAME*. We will definitely be hiring them again in the future.
*COMPANY NAME* did an amazing job on our home. We would definitely recommend this company to anyone looking for professional *SERVICE*!
I highly recommend *COMPANY* to anyone who's looking for *SERVICE*. They were very thorough and reasonably priced as well!
Local. Trusted. Family Owned.
Expert Roof Washing Grayslake, IL Residents Trust
Call Today for Roof Cleaning & Roof Washing
in Grayslake, IL!
When you hire professional roof cleaners, you're not only helping to extend the life of your roof by several years, but you're also breathing new life into it by getting rid of discoloration. It's very common for roofs to develop an algae called Gloeocapsa Magma, which leaves ugly, dark stains all along your roof. If left untreated, they can even travel down the sides of your house making your home look dirtier than it actually is. 
Don't handle roof cleaning yourself. If you're looking for roof washing near me, reach out to Natures Elements. At Natures Elements, we are your roof washing Grayslake IL experts. We're here to help: (815) 347-3193.