Local. Trusted. Family Owned.
Pressure Washing Palatine, IL
Top-Rated
Pressure Washing in Palatine
When it comes to keeping the exterior of your home nice and clean, nothing works better than professional pressure washing. Pressure washing, sometimes referred to as power washing (though power washing uses a hot stream of water) is a cleaning method used to remove dirt, grime, and other types of bacterial buildup from the exterior of your home. Like many parts of the country, Palatine Illinois is exposed to a variety of different weather patterns including extreme sunshine, rain, strong winds, and snowfall. Over time, all of these can negatively damage the exterior of your home, leaving behind chipped paint, mold, and other types of damage.
Fortunately, this is where pressure cleaning comes in. As we briefly mentioned above, professional pressure washing Palatine IL uses a strong, steady stream of water to safely and effectively remove these types of blemishes without breaking any windows or damaging other parts of your house, like your siding. At Natures Elements, our services are safe enough to use on a variety of different surfaces not limited to both brick and concrete. Call us today at (815) 347-3193 to schedule an appointment or get a quote on our professional concrete cleaning services.
Searching for Palatine
Pressure Washing Near Me?
The trained professionals at Natures Elements in Palatine, IL don't just clean the exteriors of homes. In fact, we also offer services such as patio washing and driveway cleaning to make them look brand new. Just like the outsides of our homes, our concrete driveways and patios get dingy over time, which can make them look rather lackluster. By hiring professional pressure washing services in Palatine IL, you can breathe new life into them all at an affordable cost.
At Natures Elements, we make sure to do our due diligence before performing professional pressure or power washing services on your property. For example, before we do anything, we will assess the property, including the age and surface of the area you'd like us to clean to determine whether or not it can safely endure the high-pressure stream of water. Other companies will just come out and perform the service, possibly leaving you with extra costs due to cracks and damage. However we strive to provide pressure washing Palatine, IL residents can trust. we will let you know whether or not your surface can or cannot handle these types of surfaces, so you keep more money in your pocket.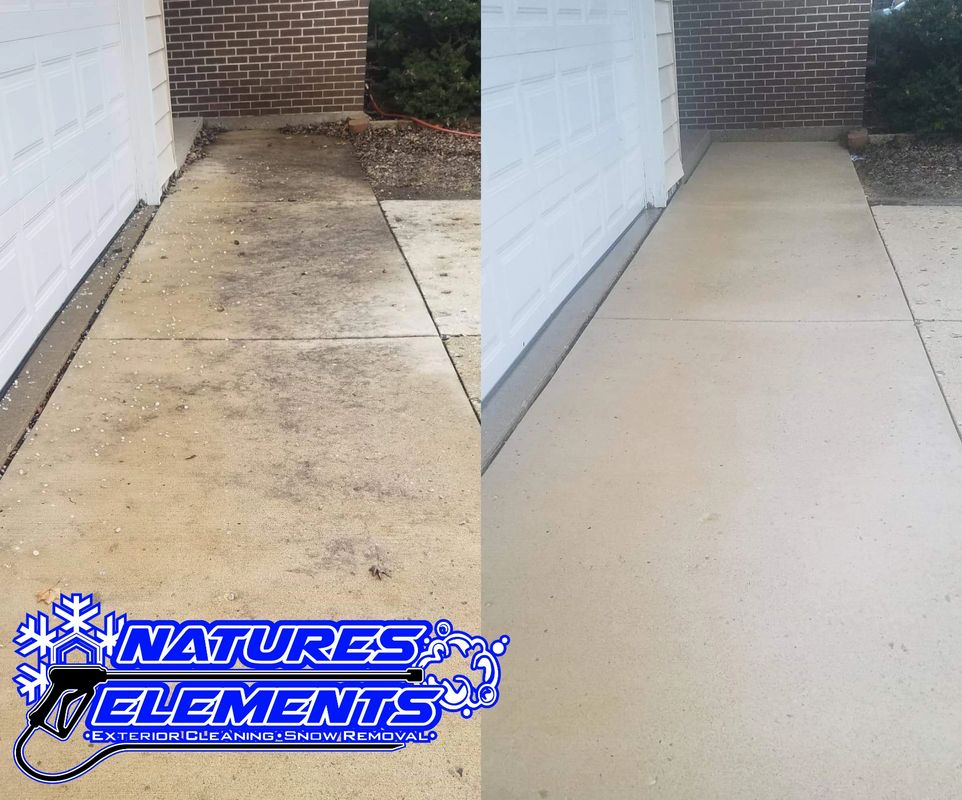 We hired *COMPANY NAME* for *SERVICE* and couldn't be happier with their service! From start to completion they were professional, on time, friendly, and were a pleasure to work with.
We couldn't be happier after the *SERVICE* service from *COMPANY NAME*. We will definitely be hiring them again in the future.
*COMPANY NAME* did an amazing job on our home. We would definitely recommend this company to anyone looking for professional *SERVICE*!
I highly recommend *COMPANY* to anyone who's looking for *SERVICE*. They were very thorough and reasonably priced as well!
Local. Trusted. Family Owned.
Expert Pressure Washing Services Palatine, IL Residents Trust
Call Today for Pressure Washing
in Palatine, IL!
In all cases, we proudly use the highest-graded equipment and products for every client to ensure that they're getting the most thorough, comprehensive clean. Contact us today at (815) 347-3193 to schedule an appointment and to learn more about our other services. We're proud to be a part of the Palatine community and continue to provide top-rated cleaning resources for Palatine homeowners when they need them the most.
Finding quality Palatine pressure washing near me has never been easier. One session with us and you'll agree. Natures Elements takes a lot of pride in what we do and we are happy to work with you and answer any questions you have about what to expect from the process and how to keep the outside of your home clean for years to come.